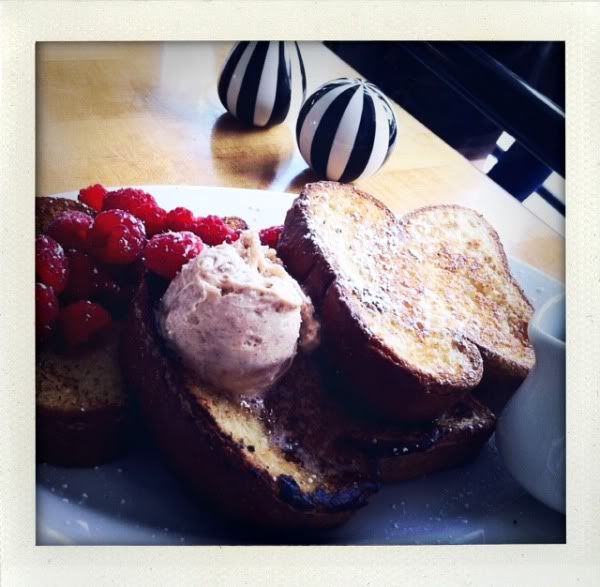 I very often get asked for restaurant recommendations. I even get asked about restaurants in New York by...people who live there. I find it extremely flattering that people trust me with their mouths.

Here's a list of my favorite non-shitty restaurants with some added must go to spots* if it's your first time in Miami (meaning, if you're from Miami, don't bother. You probably eat this stuff or something similar on a regular basis).


Breakfast/Brunch
:

Morgan's
- Everything I've had here has made me do the "mmm, mmm" hand on your stomach, eyes closed, happy dance. Get the raspberry pancakes. The french toast and fries are really good too. Expect a wait.

Icebox Cafe
- Tiny spot off Lincoln Road popular amongst the gays. Don't come here and get anything traditional. They have really decadent menu items like guava & cream cheese stuffed french toast. I've heard their desserts are all great but I wouldn't know. Sad.

Green Street Cafe
- Casual place filled with locals in Coconut Grove. Simple items but they're executed really, really well. Great place to people watch.

Lunch:

Shake Shack
- Shack burger. Fries. Key Lime Pie, Oh My concrete. Do it.

Andiamo
- Awesome pizza in North Miami. Brooklyn Special (pepperoni/sweet peppers) is my favorite.

El Rey De Las Fritas*
- I'll give this place a shoutout for being very true to Cuba Miami. If you're a tourist, go here.

El Palacio De Los Jugos*
- or here. Try one of the natural juices.

Latin House Grill
- My favorite food truck. Their "muffin tops" (sliders) are the best. If they have their Balls To The Walls (deep fried brownie topped with condensed milk), dude, you're in for a treat. & diarrhea but I promise it's so worth it.

Dinner:

Sustain
- I just like this place.

Paquito's
- Best Mexican food I've had in Miami. I'm partial to the enchiladas verde.

Pubbelly
- This place reminds me of something you'd see in NY. Their menu centers around pork. I dig the dumplings.

Meat Market
/
Prime 112
/
STK
- All amazing steakhouses at the beach. Take your pick. Try the lobster and crab cakes at Meat Market, the peanut butter smore's at Prime 112 and the lil big mac's at STK.

Sushi Samba
- Loooove this place. Put on your slut shoes and order the tuna tiradito and the red snapper with coconut rice. It's on Lincoln Road but sit inside.

Doraku
- Sushi Samba's easy little sister. Cheaper, just as delicious but not as sexy.

Barton G
- Not necessarily for the food but for the experience. Their presentations are over the top. Lobster pop-tarts served in a toaster. Martini's smoking with liquid nitrogen. This place is fun and one of a kind.


Dessert!:

Churromania
- You can't come to Miami and not have a churro. The street vendors are more authentic but this place lets you fill and drizzle with nutella, guava, caramel, etc. so they win.

Buttercream Cupcakes
- My favorite cupcakes in Miami. Vanilla with chocolate frosting or guava.

Karla Bakery*
- Cuban bakery. Try my beloved pastelitos de guayaba. You should probably get a croquetta too. Acere.

Cakes by Edda*
- Local bakery. They sell their famous wedding cakes by the slice. & they're good. & I want one.


[picture of Morgan's brioche french toast with the lightest, creamiest butter I ever did have]