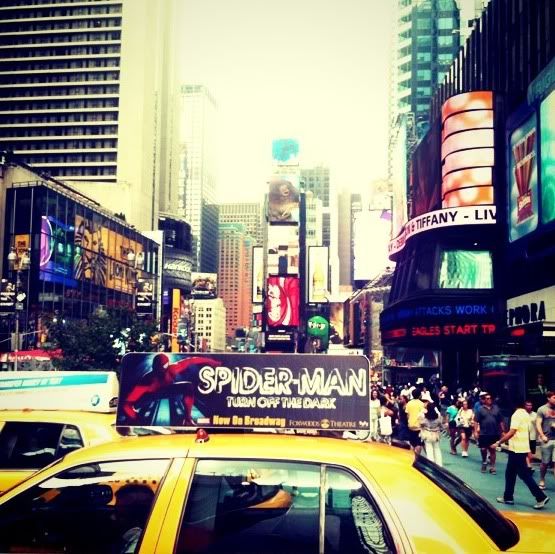 I've been here exactly one month today! Best decision ever? Top three, for sure. Wanna hear about my daily loves? Sure you do.

My neighborhood - or more so the fact that the express train is literally a 50 step walk from my front door. I have everything I need within a two block radius.

My neighbors - Everyone is so friendly and
quiet
. The windows in our apartment face the back so we get no outside noise. It's so serene and a nice escape from the hectic streets. We even have a "doorman" that goes by the name of Mega that assured me that "If anyone fucks with ya'll, come find me. I'll fuck them up. I gotta take care of my ladies." I should mention that he's in his mid-50's and wears a du-rag. Love.
My deli - Abdul! He greets me every time I walk through the door or down the sidewalk. I was paying for something one day and he goes "You have nose like my wife". I said "Oh no, so your wife has a big nose?". He looked a little confused. Next day I go in he takes out his phone and shows me a picture of his wife. Sure enough, I DO have her nose. & it's big. But he married her and her schnoz so I'm flattered, really.
My job - I work in the Financial District right now and I love the energy down there. & the neighboring nail salons that offer mani/pedi combos for $20. & the fruit cart guys right outside my job that greet me at 6:25am and without fail, say the exact same thing every morning "OKAY, how are you, my friend?!" while smiling, nodding and offering me some of their finest produce. They're so sweet. I have to stop myself from squeezing their cheeks and kissing the tips of their noses.
I could not have asked for a smoother transition.
I get a little antsy on weekends wanting to explore every nook of this city. I have to remind myself that I live here now and I have plenty of time. I just feel that there's so much to do, see and
eat
and I really want to take it all in.

All in all, living here is a
dream
. Except for the pigeons. Will never love the pigeons.